Sunglass Style for 2021
Spring is here and the days are getting longer. Sunglass season is upon us! As always the question is what to get? What's going to capture your sense of style and embrace the current trends? And the answer is simple, cover the essentials first – a tint you like looking through that prevents squinting, full Ultra Violet protection to safeguard the eye, and a style with good coverage.
Those requirements never really change, but that's not exactly helpful, so lets see if we can't offer a bit more to go on. 
Working in optical, the trends this year seem to be pointing to large frames with great coverage on the face and interesting shapes in thin metals of gold or rose gold. This is a definite departure from the large chunky plastics of previous years, though those haven't completely left the market, they still offer great coverage and protection.
Hexagonals, octagonals and the like, unusual shapes are the cutting edge of fashion for 2021. Paired with those interesting shapes, we're seeing mirror coatings drawing significant attention and not just for the sporting group.
Champagne and rose gold mirrors are complementing those new frame styles wonderfully and assisting with glare reduction at the same time. Thin metals, lots of coverage, funky shapes, and a stylish mirror – that's the look for summer 2021.
Of course, some styles are classic and never go out of fashion. The sports minded will always be drawn to the wrapped sunglass that fits snuggly to the face while the classic vintage styles made famous in songs and movies will never truly go out of style. Whatever your preference, you will be spoiled for choice at your local Licensed Optician.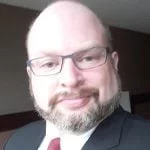 Derick Summers
R.O Freelance Optician and Trainer