Optician or Optometrist: Settling the debate
When it comes to our health, we all need to make educated choices on the services and products we include in our lives. And choosing a Licensed Optician in conjunction with an Optometrist is the best strategy to protect our vision's health. Each professional plays an important role in our ocular health, together ensuring that we get to see clearly the life we are meant to live.
The difference between an Optician and an Optometrist
While both provide primary vision care, optometrists are primarily responsible for providing a prescription and checking your ocular health while opticians are the technicians trained to interpret that prescription, and to design and fit you with your eyeglasses, contact lenses or other visual aids based on your lifestyle and vocational needs. 
Both work hand in hand to provide you with the best vision possible. But Licensed Optician are the front-line workers for your eye health. They are easily accessible, especially in smaller remote locations. They provide your routine care, adjustment, and refilling of prescription eyeglasses, contact lenses or other visual aids. And if you are in British-Columbia and Alberta, they can also provide you with an assessment with which to purchase new eyeglasses and contact lenses.
When you visit a dispensary, whether privatly owned, a vision care chain or even in some optometric clinic, you will be greeted by a Licensed Optician that can provide you with a wealth of information to help you see better in all your daily activities. So take your time to explain all your specific needs, this will allow you to achieve complete vision satisfaction.
There was a time where one pair of glasses was all that was needed… but that was before the incredible advances in lens technology that allow you to find the perfect fit for all your activities and hobbies. Optometrists will provide you with a prescription, but the Licensed Optician will provide you with the best vision for work, rest, and play!
Eyeglasses for work
If you work in front of a computer all day, ask about glasses with special tints and coatings to protect you from mobile / computer screens. Your Licensed Optician can also give you tips and tricks to help you avoid digital eye-strain and fatigue.
If you work outdoors, you should ask for glasses with sun protection to protect your eyes from harmfull Ultra Violet rays. There are so many choices when it comes to tints and coatings that you can really personalize your sunglasses to match your personality.
And if you work construction, your Licensed Optician can provide you with the perfect safety eyewear that will protect you against injury risks while ensuring the best vision possible.
Eyeglasses for rest
The effect of leisure-based screen time has drastically changed in the last decade… and definetly over the course of the pandemic.  We have gone from watching television to watching small screens and playing outside to playing video games. The American Academy of Ophtalmology revealed last July* a spike in children's vision problems as many children use devices around the clock for both school and play. Half of the world's population is predicted to be myopic by 2050**. 
It's important to talk to your Licensed Optician about your children's screen time habits, even if they have a perfect vision. Licensed Opticians may suggest non-prescription computer glasses with blue light filters or perhaps anti-fatigue glasses that have magnifiers on the bottom of the lenses for a better view of small screens and to reduce eye-strain and fatigue. Only a Licensed Optician can ensure a proper frame fitting as well as confirming the quality of lenses. 
Eyeglasses for play
You would be suprised to see all that is available to help you see better while practicing your favourite sport. The evolution of lense technology in glasses and contact lenses is astonishing. Prepare to be amazed with the variety of sportswear specialty glasses, including goggles for swimming, diving and skiing. And let's not forget sunglasses to keep on protecting your eyes from UV rays. Not only will you have the clearest vision possible, but you will also feel secure as your glasses will be fitted to enhance your sports performance.
Adult vision and low vision
Many adults in their mid-40s begin to have problems seeing clearly at close distances. A Licensed Optician can help ease the turmoil and the transitions to progressive addition and bifocal lenses. If you'd prefer not to rely solely on glasses, they can also present some contact lens solutions.
Helping people to see better is really their specialty. They have an extensive trainning to provide low vision solutions; helping patients that will never see well due to some underlying condition. A Licensed Optician can provide products, such as magnifiers, tints and big screens, to help them in their evereyday live.
Settling the debate
How to know which eye care professional to see will depend on the service you need.
Visit an

optometrist

for routine eye care, such as an eye exam and health check and for larger medical concerns.

Visit a

Licensed Optician

for all your eyeglass and contacts prescription needs. Opticians fit eyewear from newborn to elders.
Your eyes are working hard to see the world around you—that's why healthy vision is so important. And teaming up a Licensed Optician alongside an Optometrist is a good way to ensure proper eye care.
* source: https://www.aao.org/eye-health/tips-prevention/covid19-pandemic-myopia-children-eyes
** source: https://theconversation.com/hidden-in-plain-sight-how-the-covid-19-pandemic-is-damaging-childrens-vision-158737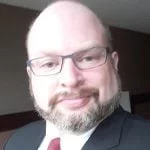 Derick Summers
R.O Freelance Optician and Trainer