New Glasses for Valentines' Day
Valentines' day is fast approaching and many are looking to step up their style to that next level.  
They may be looking for the perfect frame to accessorize their outfit for that epic dinner with that special someone. Or, they may be looking for that frame that compliments 'just so' and brings out the colour of their eyes; after all, if the eyes are the windows to the soul shouldn't they be showcased?
Whatever their goal or their motivation, they're coming to you, their Licensed Optician. You will act as their personal frame consultant showing them the latest trends and helping them find the ideal eyeglass frame.
Let Your Customers See You As A Reference
As a Licensed Optician you will assess your patient's visual needs, the ophthalmic requirements of their prescription, their wants, and what they'd like their eyeglasses to say about them.
Your mission will be to take that information then factor in so much more: their facial structure and shape, their skin tone, their personal style, and even their allergies.
Once you have all of this critical information and formed a mental image of whom you are working  with, you must now consider frame materials, shapes, colours, lens materials and treatments that best suit your patient.
Your patient will look to you for recommendations about the ideal frame that meets all of their needs and then, on top of everything else, you'll be asked to make it fit into the various aspects of their lives.
As a Licensed Optician you are the technical expert, you are the professional opinion offering guidance and ensuring that the technical requirements of the prescription are not lost in the patient's fashion wants.
It is your primary role as a Licensed Optician to ensure that your patient sees the world as clearly as they possibly can, and your secondary role is to ensure that they look fabulous doing so.
A Consultant's Role That Has Style
Fashion and style are continuously evolving. New trends are always just around the corner, new materials and treatments often just a breakthrough away. Patients expect to be kept in the loop and they expect their eye care professional to be current.
They expect to be able to step into your office and, after a short consultation they want you to be able to peg their style. They expect their Licensed Optician to help them be bold, or discreet, fashion forward, or simply fun. They expect their Licensed Optician to help guide them towards their vision of themselves and the look they wish to achieve.
Valentines' Day is looming on the horizon so take this opportunity to help your patients reinvent themselves. This is the perfect time to freshen their style with an optical make over.
Show them the latest and the newest, find the frame that accentuates the shape of those 'windows to the soul', show them the colour that makes their eyes 'pop', and be their guide as they redefine their own personality.
Conclusion
Gone are the days when one pair of eyeglasses did everything a patient needed. Multiple pairs have become the norm and it is not unusual for a patient to have a different pair of eyeglasses for all of the intricacies of their daily life.
Work, rest, or play, there are frames for every occasion. Now is the time to take it to the next level. More than ever eyeglasses play a pivotal role in creating that perfect look. So for this Valentines' Day, maybe it's time to suggest that extra 'just because' pair.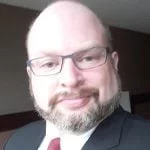 Derick Summers
R.O Freelance Optician and Trainer