Great Career Opportunities
People think that becoming an optician means working in a retail outlet helping people with glasses and contact lenses, and while this is certainly one option, it is not the only one. Becoming an optician opens the door to a variety of potential career opportunities.
A career based on your personal interest
Careers for Licensed Opticians vary widely depending on an individual's personal interest.
From working hand-in-hand with the other "O's" in private practices, hospitals, and laser clinics to focusing on problem solving and R&D for wholesale laboratories and manufacturers, the sky really is the limit.
And even if those options don't grab your attention, lets not forget the lens and frame sales representatives who bring us the newest our industry has to offer or the continuing education speakers who keep us at the fore of modern technology and techniques. And all of these, come with competitive compensation and the prospect of future growth.
Becoming a part of your patient's lives
As a Licensed Optician you will create connections with people. If you choose to work directly with the public you will become a counselor, an advisor, a trusted resource, and a fashion consultant.
Often times you will develop a clientele that grows with you; that child you fit with her first pair of glasses when she was four comes back to you for contact lenses to wear on her wedding day, and eventually brings her own children to you when they need their first corrections. As an optician you really do become an integral part of your patient's lives.
A plethora of opportunities
There is also room for personal growth and development. If your interest lies in management or business ownership, Opticianry holds a plethora of opportunities.
Whether it be working your way up the corporate ladder in a large chain, or revolutionizing the way business is done with your own Independent Optical the future is yours to create and mold.
And, if management isn't for you, perhaps education or an advisory capacity on one of the Associations or Self-regulated Colleges helping create the opticians of tomorrow or the rules that govern them. With a future so bright, may I suggest shades?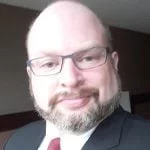 Derick Summers
R.O Freelance Optician and Trainer