A Career As A Licensed Optician
A career as a Licensed Optician is a future so bright, you'll want to wear shades! The profession has something for everyone whether you have a passion for helping people or prefer to work behind the scenes on the technical side of things, as a Licensed Optician you'll be able to design your own future. The ultimate choice, your own adventure.
Helping people
Altruistic? A career as a Licensed Optician will literally allow you to help people see their world better. From the regular effects of aging to post surgery situations a Licensed Optician will interpret the prescriptions that maximize a patient's vision and help design for them a solution that best fits their needs. Even more exciting, providing that gift to a young child who's never had it. Ask any Licensed Optician and they will tell you, there's nothing quite like the moment a child first sees their mother – guaranteed not to be a dry eye in the place.
A constantly evolving field
Or perhaps your interests lie more in the sciences than the humanities. The field of opticianry and optics is perpetually evolving and changing. New lens technologies and designs to better replicate or improve natural vision through eyeglasses, contact lenses and low vision aids are constantly being developed. As a Licensed Optician you gain the knowledge of the fundamental principles of light and optics. That knowledge is a foundation upon which you build. With time you could be working with the teams designing the next improvements in contact or eyeglass lens technology.
Fashion advising
Changing the world seems too grand a goal? Perhaps you just want to work with people, help them find their personal style and design that perfect look that sets them apart from the crowd without them ever having to speak a word. As a Licensed Optician you get to put that fashion sense of yours to work, before you know it you'll be advising patients on colours, shapes, and aesthetics. Becoming a Licensed Optician may allow you to pursue your passion for fashion.
A great career for every tastes
A career as a Licensed Optician has so many options and opportunities it would be impossible to list them all. Simply put, if you can think it, dream it, you can probably make it happen. So let your passions flourish and see where this exciting health care profession can take you.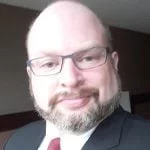 Derick Summers
R.O Freelance Optician and Trainer