A Stylish Profession Focused On Well-being
So you want a career that will challenge you and make you think? How about bending light with pinpoint accuracy to create a focused image on the human retina? Have I got your attention?
As a provincially Licensed Optician you will learn the science of optics: from the anatomy and conditions of the human eye to the ever-changing technologies behind optical lenses.
You will also learn how to correct visual disorders, enhance vision in adverse conditions, and safeguard, what is arguably, the most depended upon sense in the human body.
And if that didn't offer enough of a challenge, you will do all of this while acting in the capacity of fashion consultant and counselor as you work with the public finding that scientific solution that also meets your patient's psychological need to 'make a statement' and 'look good' doing it.
The role of a Licensed Optician is perfect for those seeking to merge their desire to make a difference in the health and welfare of those around them, while still allowing an outlet for their own creativity and fashion.
It is a career that can be pursued in a way that adapts to your schedule with classes being offered part-time, full-time, or through distance learning.  It is the health industry with a fashion twist!
See How You Can Make A Difference
As an optician you get to combine health care and fashion. You will also get to make a practical difference in the lives of your patients, designing the most effective solutions to their visual problems.
In some cases, returning the vision that they'd thought they'd lost forever. There's nothing like the sense of accomplishment and joy that comes when a child sees, really sees, his/her mother for the first time. Those are the moments that leave the entire clinic in tears.
At the same time, you will act as a fashion consultant helping patients design 'their style' and helping them select the perfect frame. The one describes them as they enter a room without a word ever spoken. For all of these moments, that's why becoming an optician represents a great choice of career.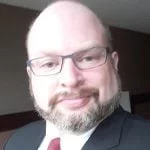 Derick Summers
R.O Freelance Optician and Trainer